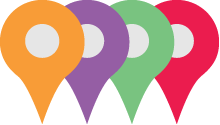 UMBC Transit provides safe, reliable, responsive shuttle and charter bus services to meet the transportation needs of the UMBC community. Shuttle routes cover residential communities near campus, as well as shopping areas surrounding UMBC.
UMBC Transit, a Department in the Division of Student Affairs, is funded by the University's Transportation Fee, which is assessed to the student population based on credit hour. All UMBC students, faculty, and staff are able to utilize UMBC Transit shuttle routes and services. Your UMBC campus identity card is required for boarding.
Routes Include
Charter services typically include Maryland, Washington D.C., southeastern Pennsylvania, northern Virginia, and parts of Delaware and West Virginia. Visit Rent a Bus for an online request form.
Accessibility
Buses are equipped with wheelchair lifts or low floor ramps to allow easy access for Retrievers with disabilities.
Convenience and Technology
With over 300 stops, UMBC Transit provides a convenient and "green alternative" for commuters and the residential population of UMBC. An important new tool is Transit Tracker, which provides the rider with web-enabled, GPS locating of all route buses. This service provides real-time information for riders as they navigate their travels on UMBC Transit shuttle buses.